Wherein a debut author provides a few snapshots from his first-ever book tour:
Sunday, May 6
Lynda (my wife) and I depart at noon from our home outside Cortez, CO, pointing our Porsche southward toward Santa Fe, NM, the fabled City Different, where we lived from February of 2006 through January of 2012, and where Hush Money was actually written.  Our plan is to meet friends for dinner and spend the night at their home before reading and signing Hush Money at Collected Works Bookstore on Monday evening.
Our plans very quickly go awry.
Five miles south of Abiquiu, NM, just as we're changing audiobook disks on the CD player, we hear a sharp, metal-on-metal screeching sound emanating from under the car.  "How's the temperature?" I ask Lynda, who's driving.  "Fine," she says.  "Oh wait, the light just came on."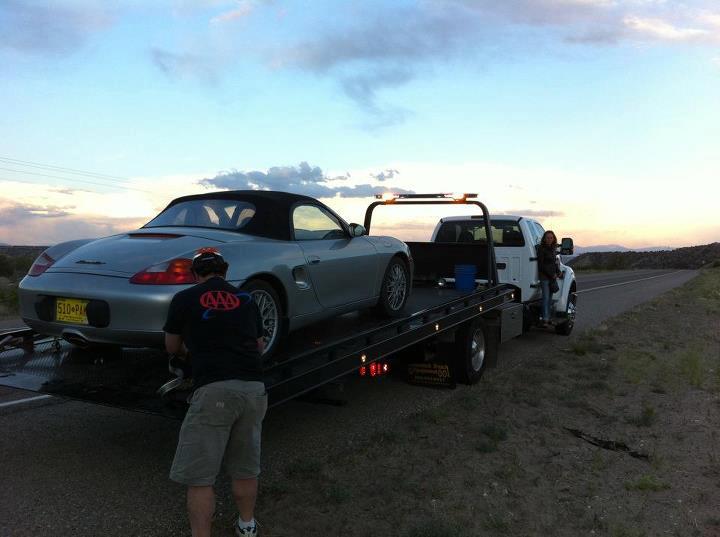 We pull to the shoulder of Highway 84, where I leap from the car in time to witness several pints of coolant fluid bleeding onto the roadside gravel.
There's no cell phone service, and highway traffic is zooming past, so I vault a barb-wire fence in order to scramble up a hill in search of a signal.  The view from up top is lovely, by the way, and includes the famous flat-topped Cero Pedernal, the mountain that Georgia O'Keefe once claimed as her own ("God told me if I painted it often enough, I could have it.")
After calling the Auto Club, I return to the car to find Lynda using the satellite telephone of a helpful young New Mexico State Police officer who is delighted to discover a new author.  We spend the next 90 minutes or so discussing his educational and career aspirations.  I maybe sell my first book.  By the time the tow-truck driver arrives and the car is safely secured and delivered to a repair shop in Santa Fe, it's already past nine o'clock.
"Maybe this is a good omen," I say cheerfully, to a trio of baleful stares.
Monday, May 7
Donning what will become my signature book tour uniform (sport coat, jeans, cowboy boots), I arrive at Collected Works in time to spend fifteen private minutes with author David Morrell (he of First Blood/Rambo fame), who has graciously agreed to serve as MC for the evening.  He turns out to be a Porsche owner/enthusiast, and we spend fourteen of those minutes talking cars.  The turnout for the event is good — approximately thirty or so people, mostly friends — and the readings elicit laughter and applause in all the right places.
The good:  during the signing portion of the evening, a guy slips a book in front of me and says, "I'm Pete Chapman," my boyhood best friend, whom I haven't seen in almost 40 years.  The bad:  there are only a dozen copies of Hush Money in the store, so many guests go home empty-handed.  The ugly:  a new water pump for the Porsche will set me back $1,500, will take a week to install, and will necessitate a rental car to get us back to Colorado.  (I calculate that I can pay for it all if I sell another 800 books.)
Saturday, May 12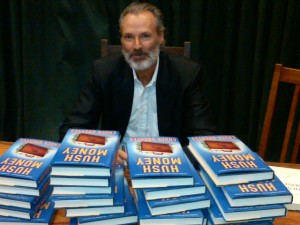 Five minutes before I take the stage at Vroman's Bookstore in Pasadena, Southern California's largest independent, a friend informs me that the sign on the front door states that my reading is scheduled for 7:00 p.m.  This is unwelcome news, as it is now exactly 5:00 p.m.
Since Hush Money is set in Pasadena, and since Lynda and I lived and worked in the Crown City for over twenty-five years, this is my tent-pole event on the tour, and happily, some forty or so people have ignored the sign and are waiting to greet my 5:05 arrival.
I do my speaking with a hand-held mic, and my reading from the podium.  The energy in the room is tremendous, and there are lots of questions afterward — always a good sign.  I'm later told by staff that I managed to out-draw Chad (The Art of Fielding) Harbach — Friday night's author — by around 2:1, and I'm heartened to learn that Hush Money is the No. 1 Vroman's bestseller during the week of my reading; a week that includes readings by Harbach, Ann Patchett, and Sissy Spacek.
We call that home-field advantage.
Wednesday, May 16
Founded in 1888, the Valley Hunt Club is (to borrow a line from Hush Money) the poshest private membership club in Pasadena, a city in which posh, like Kardashians, seems to be everywhere.  So while it's not clear how a bearded, ink-stained wretch from Cortez managed to wrangle an invitation, I find myself (tonight sans jeans and cowboy boots) addressing eighty very affluent guests as part of the VHC's Notable Speaker Series.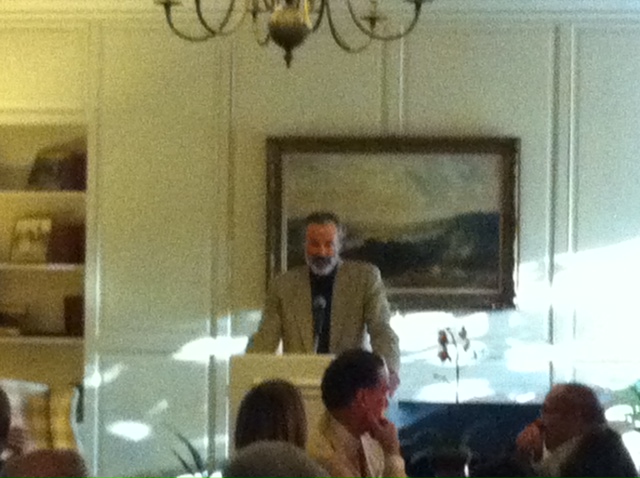 Wedged between a stem-winding introduction by a friend and former law partner and a sumptuous three-course meal, I log forty or so minutes at the podium before sitting down to belch and crush a beer can on my forehead.
Thursday, May 17
My reading/signing at Book'em Mysteries in South Pasadena is a late addition to the schedule, and I arrive buoyed by the phone conversation I just had with a film rights sub-agent from CAA who thinks that Hush Money protagonist Jack MacTaggart might be a good fit for series television.  (And who am I to argue with CAA?)  There are a dozen or so in attendance at the bookstore, including friends I haven't seen in years, and we sit in a circle and mostly chat for over an hour, and, not incidentally, sell out the store.
Meanwhile, back at the ranch, I learn from Lynda that I no longer own a Porsche.  I now own a sensible, reliable Toyota Rav4.  (I calculate that I can pay for the new car if I sell another 10,000 books.)
Saturday, May 19
I arrive at the storied Flintridge Riding Club in La Cañada lightly sunburned from having just caddied eighteen holes for a friend who's competing in the Pasadena City Golf Championship.
I'm a little nervous about this afternoon's event, as I fear that, despite my years of membership and service on its board of directors, some of the newer Club members might take umbrage at the fact that Hush Money takes place, in part, at the snooty, dysfunctional, and entirely fictitious Fieldstone Riding Club in La Cañada.  These fears prove unfounded, however, and I spend a pleasant two hours on the shaded patio talking horses, books, and wine, in the companionable company of all three.
After the Flintridge event, and before heading off to Dodger Stadium for the evening, I pop over to Vroman's for a private chat with bestselling author Craig Johnson, in town to promote As the Crow Flies, his latest installment in the Walt Longmire mystery series, and to whom I owe a debt of career gratitude (to Craig, that is — not Walt), the details of which I'll save for another day.
Interesting footnote:  As the Crow Flies and Hush Money will end the week ranked first and second, respectively, on the Pub Alley (Baker & Taylor) national mystery bestseller list.  Good company indeed.
Tuesday, May 22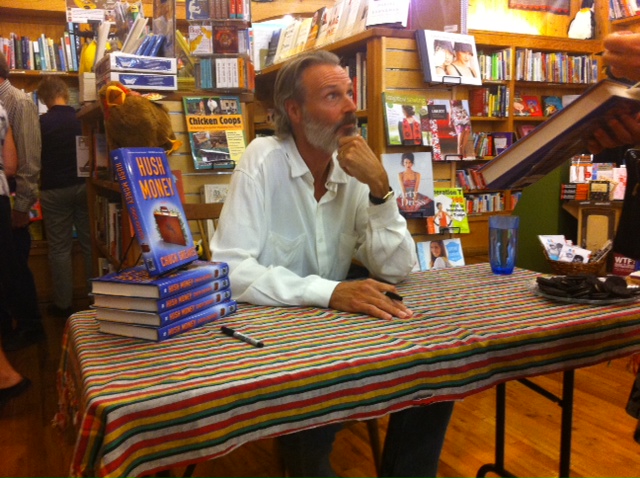 Back to Colorado, where I'm scheduled to read and sign Hush Money at Maria's Bookshop in beautiful downtown Durango.  (It was at Maria's that Lynda and I had the pleasure of meeting — and then having dinner with — bestselling author Jonathan Evison back in April, proving that good things can happen to you when you attend a book signing.)  I arrive at Maria's with an entourage of a dozen friends from Cortez, and we sell out the store yet again, a trend that I hope will continue as the Hush Money Roadshow continues next month with stops at the Cortez Public Library on June 2, and at the American Library Association's Annual Conference in Anaheim, CA on June 23.
Hope I'll see you there!