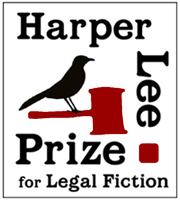 I'm hugely honored to announce that TOM & LUCKY AND GEORGE & COKEY FLO (Bloomsbury), my historical/true crime novel of gangsters, madams, and lawyers in Depression-era New York, which was previously a Wall Street Journal "Best Books of 2015" selection, has been chosen as one of three finalists for the 2016 Harper Lee Prize for Legal Fiction.
The Harper Lee Prize was inaugurated in 2011 to coincide with publication of the 50th Anniversary edition of To Kill a Mockingbird, and is a joint venture of the American Bar Association and the University of Alabama School of Law that honors the work of American fiction that, in the spirit of Mockingbird, "best illuminates the role of lawyers in society and their power to effect change."  The award will be presented in September of 2016 in conjunction with the Library of Congress National Book Festival in Washington D.C.
I want to congratulate my fellow nominees, and to thank my publisher, the selection committee, and all of my loyal readers for this fabulous career milestone, and for the opportunity to join the likes of John Grisham and Michael Connelly as Harper Lee Prize winners.